Trust the numbers
The combination of video and texting is a powerful tool that customers favor significantly over older methods of communication.
30
increase in dollars per RO
25
improvement in show rate for sales prospects
440
average videos viewed per account per month
What Our Customers Are Saying
We take pride in delivering real results for our customers - see for yourself.
The True Future Of Service
Now your service technicians can shoot and send video to your customers so they can see exactly what needs to be repaired and understand why. In one or two videos, you can earn customer loyalty that once took years to build.
Learn More
All-In-One Communication Platform:
Created with video at our core, TruVideo contains all the tools that your dealership needs to provide trusted and effective customer engagement wrapped up into one platform.
Fully branded HD videos are sent as a link via text message to your customer. With just a few taps, the customer receives the optimal communication experience. Technicians can build trust by sharing details directly with the customer, and sales professionals can send walkarounds to prospects unable to visit in person.
Customer meet Service Advisor
Our complete 2-way texting platform allows customers to quickly communicate with their service advisor or sales representative in order to receive answers to any questions about their vehicle.
Customers can review and securely pay for their service repairs right from their mobile device. Let your customers comfortably send contactless digital payments from their home.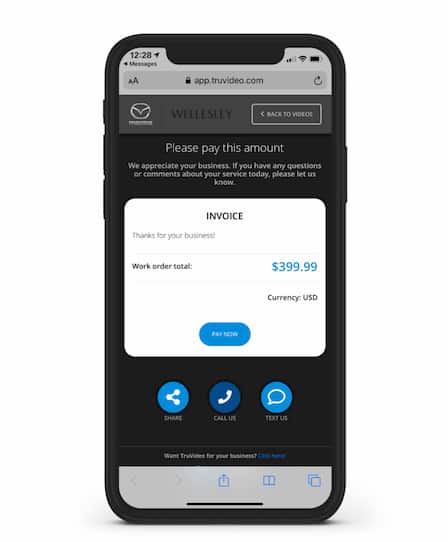 The estimate creator allows advisors to quickly and easily create estimates for customers to accept or decline each item online. Service videos provide transparency, and estimates empower customers to choose the essential work needed for their vehicle. The combination of video and estimates create a positive experience for the customer while driving up revenue per RO.
Get Everyone on the Same Page
A complete internal chat platform that allows everyone in your organization to communicate easily through one app. This enables your teams to collaborate and get answers to time sensitive questions.
Truly Better Sales Results
Your customers are very particular about what they want in a vehicle. When your salespeople send them a video of a vehicle with the features they requested, they'll come in for a test drive because they know you've got exactly what they want.
Learn More
Let us show you what TruVideo can do for your company.
Our staff can offer you a personalized demonstration.
Start Using Video at Your Dealership
Book A Demo